Main Ridge Estate is looking perfect. An early Spring and lots of work over Winter has meant the MRE and Trueman vineyards have exploded with one of the more vigorous budbursts seen in years. Current inflorescence (baby bunch) counts are higher than average and with a warm Summer expected the scene is set for a good harvest. After the challenges of recent low yielding vintages, an unfamiliar sense of optimism is rising… providing Mother nature continues to be kind during flowering, due in November.
NEW WINE RELEASES
2022 Pinot Meunier
and
2022 'Trueman Vineyard' Pinot Noir
2022 Main Ridge Estate Pinot Meunier     
100 Pinot Meunier vines were planted at MRE in 1976, intended for their traditional use of adding floral complexity to sparkling wine. However, the fruit has always been made into a single barrel of an uncommon and much sought after lighter style red table wine. SEE 'RETROSPECTIVE' SPECIAL OFFER BELOW.
 
Tasting & technical notes
I would usually avoid commenting on this, but great colour for Pinot Meunier!  Maraschino cherry, candied raspberry, violets and vanilla. Acid is lively, but controlled by the prevailing tannins. Meunier with cellaring potential.
13.7% alc, pH 3.36, T.A. 6.1g/L, Picked 1st April 2022
 
2022 Main Ridge Estate 'Trueman Vineyard' Pinot Noir
We were very pleased with the positive response to the 2021 Main Ridge Estate 'Trueman Vineyard' Pinot Noir, our first vintage from that vineyard:
"From the good neighbour's vineyard which Nat White helped plant way back, now under the care of Main Ridge Estate. Complex pinot noir, refined and elegant. Very Good"  95 Points – Mike Bennie, The Wine Front. December 2022
 
Tasting and technical notes
Some classic characters of the Main Ridge sub-region occurring in this wine. Bright young strawberries and raspberries, mandarin oil and cinnamon. Gentle tannins slowly encroach into the middle palate, in great synergy with the wines gentle fruit weight.
13.3% alc, pH 3.35, T.A. 5.9g/L, Picked 15th April 2022
 
James Sexton, Wine maker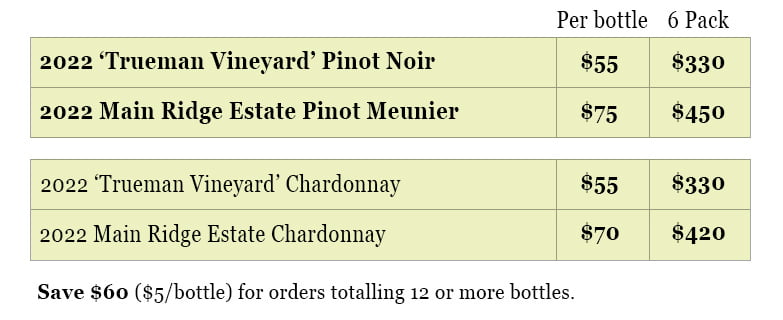 The 2022 'Half Acre' and 'The Acre' Pinot Noir will be released later this year.
NEW FOOD AND WINES
New dishes, new pricing and wine pairings
Our Spring menu welcomes back saganaki with spiced figs, cold smoked King salmon, Koo Wee Rup asparagus, and includes our first dessert! Your familiar favourites also remain.
Guests looking for a lighter lunch option, can now enjoy a shorter 3 course option ($55/person), as well as our usual 4 courses ($65/person).
For those wanting to explore our wines, we now offer wine pairings. A selection of 4 half glasses of wine, served and explained over lunch.
To finish lunch, we are now serving Little Rebel filter coffee, plus, a selection of digestifs from North East Victoria.
With the holiday season approaching, don't forget our winery and courtyard are available for private group dining of up to 12 people.
Great for catch ups with friends, corporate events or family celebrations!
NEW YEAR SUMMER CONCERT
Emily Granger – Harp
Main Ridge Estate is proudly hosting a Peninsula Summer Music Festival concert on Wednesday 3 January 2024, continuing a long association.
Emily Granger, an American-Australian international harp sensation will be performing in the intimate setting of the Main Ridge Estate cellar door.
Doors open at 6:00pm for a 6:30pm start
60 minute performance
Bar opens 6:00pm
Complimentary canapes will be served pre-performance