Our guests appreciate the peaceful setting and friendly service of our small family winery.

To ensure we maintain this experience we strongly recommend all guests make reservations before arrival.

Bookings are strictly limited to a maximum of 6 people including children.
Frequently asked questions
What are your opening times?
Every weekend and most public holidays
Tastings & wine sales – 11am to 4,30pm
Lunch – Noon to 2.30pm
Sundowner drinks & snack – 3pm to 5pm
Do you cater for special diets?
Our menus are designed to share and most dishes contain cheese, fish or meat. 
We can adapt some dishes to cater for gluten intolerance, vegetarians, pescatarians, pregnancy or certain allergies.
We can satisfy most requirements, but are unable to offer tailored menus.
Please notify us of dietary requirements when you book.
Can I bring my dog?
Well behaved dogs on a leash are welcome, subject to availability of outdoor seating space and the number of bookings. 
Dogs must be pre-booked via our reservation system.
Archie our West Highland Terrier will most likely greet you with a hungry stare!   Please don't feed him.
Can we walk through the property?
Please do not enter the vineyards – the vine insect pest phylloxera can be spread on your shoes. 
Our region is currently free from this destructive disease.
Can I get easy, level ground access?
For prams, wheelchairs or guests with special needs, please park at top of driveway carpark and enter via the rear of the winery building. 
Guests can be dropped-off nearer the winery before parking.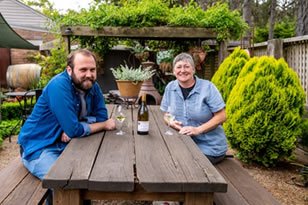 Wine Tastings
A seated wine tasting in the Peninsula's first winery, hosted by a Winemaker (subject to their availability). $10 for 4 wines, or complimentary with individual bottled wine purchases.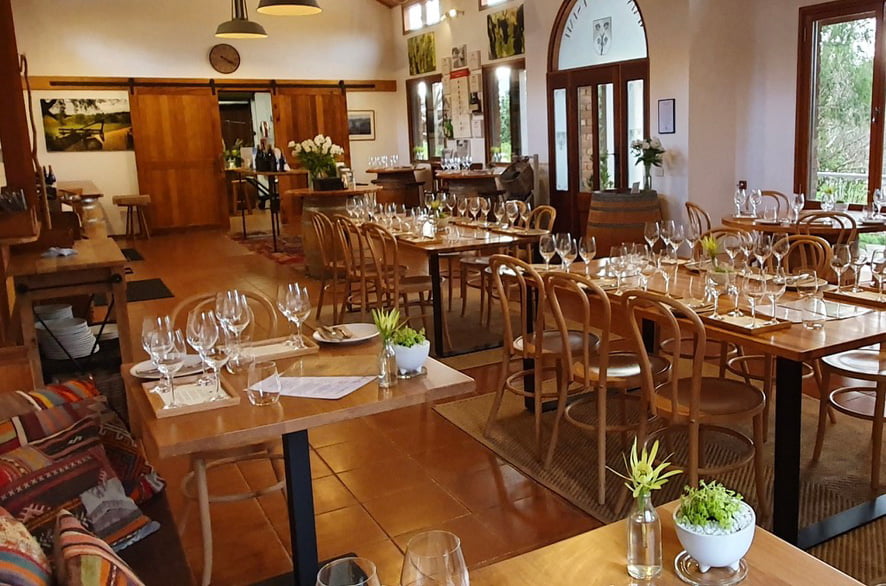 The Larder
Enjoy lunch to share by the log fire in the winery, or in the fresh Red Hill air on the under-cover deck.
$60 /adults; $25 /children.
See THE LARDER MENU here.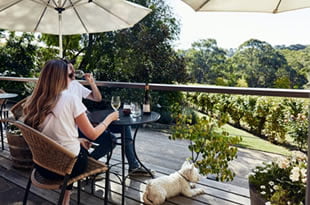 Sundowner Drinks
Casual drinks, cheeseboards and snacks are served from 3pm.
See THE SUNDOWNER MENU here